Training Outdoors
Training Camps
Kranjska Gora is the sports, recreation and activity centre of the Julian Alps. Its outstanding nature and clean mountain air create the perfect conditions for training.
Ideal Conditions for Training
Kranjska Gora is a paradise for outdoor sports activities. Athletes are also welcome to train in the Vitranc Sports Hall, while accommodation and other services are provided by the Hit Alpinea Hotels. Our friendly staff is happy to handle all of the organisation. They will attend to the athletes and all their wishes so they can fully focus on training.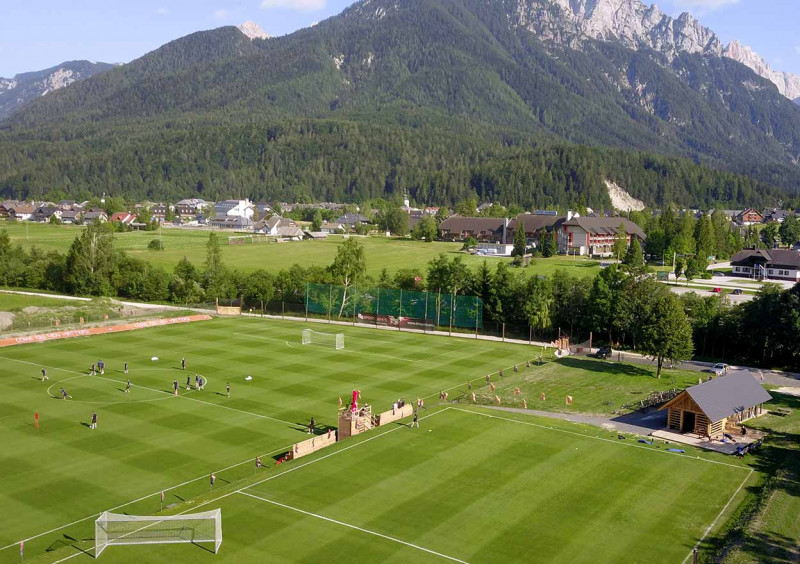 Outdoor Team Sports
Kranjska Gora is becoming the centre for football training camps for professional and amateur sports teams. Teams have one small and two large football fields at their disposal. The fields with freshly cut grass are all well maintained and are at most 500 meters away from the hotels.
Large football field: 102 m x 68 m
Small football field: 80 m x 45 m
Small football field: 80 m x 40 m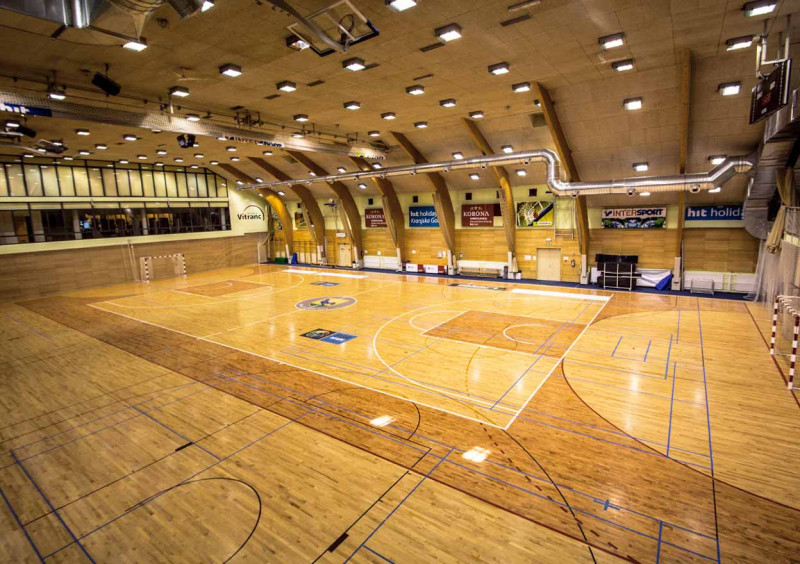 Indoor Team Sports
The Vitranc Sports Hall is located in the centre of Kranjska Gora, just a short walk away from the hotels. The sports hall is suitable for training camps for various indoor sports, including basketball, handball, indoor football, volleyball, floorball, table tennis and badminton. It also has a gym with fitness equipment.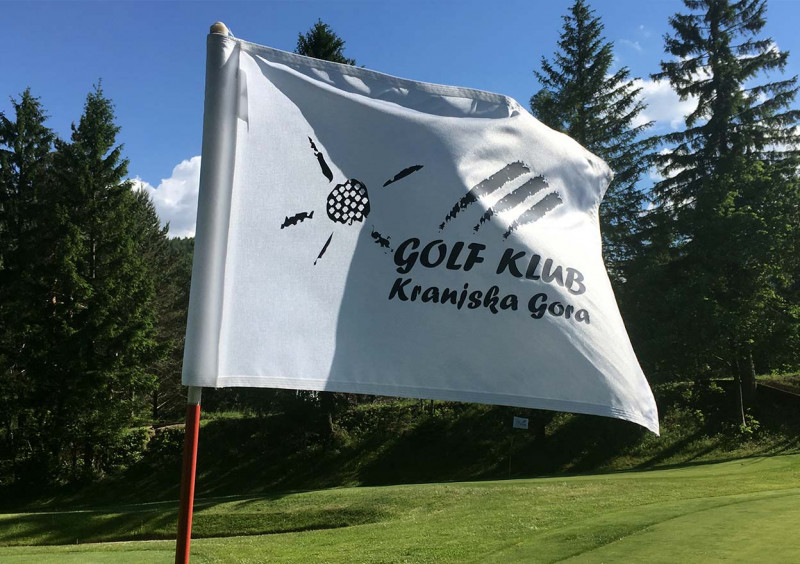 Golf Course
The golf course is located at the confluence of the Pišnica and the Sava. It has 9 holes, a driving range and a putting green. Two other golf courses are just nearby, in Tržič and Bled.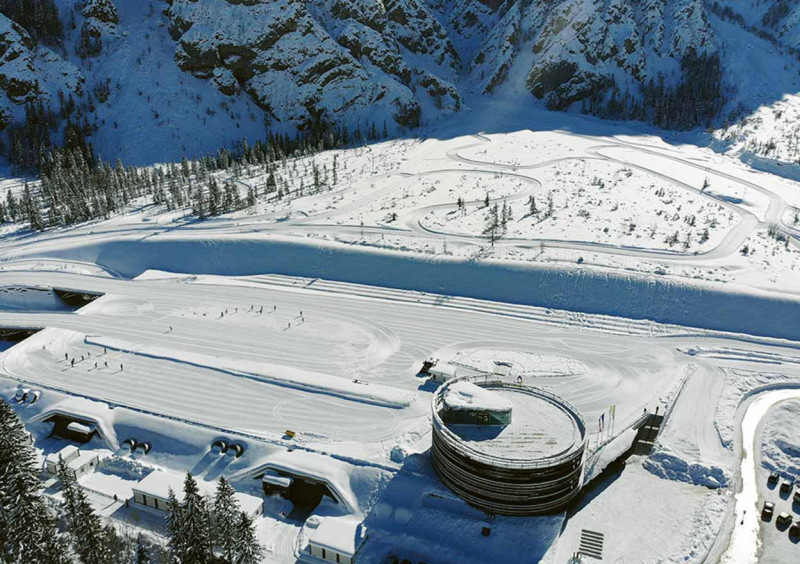 The Planica Nordic Centre
Planica is an idyllic valley protected from the wind by the high mountains, making it an ideal place for training and competitions. There are four types of jumping hills suitable for training camps: the junior jumping hill, the youth jumping hill, the Bloudek Giant and the Flying Hill of the Gorišek Brothers. For cross-country skiing training camps, there are 40 kilometres of trails between Kranjska Gora and the Tamar valley, while an 800-meter trail in an underground tunnel enables skiers to train also during the summer months.
Kranjska Gora Hosts Numerous Sporting Events
Hit Alpinea has hosted several international sporting events, provided accommodation for the guests and even co-organised some of the events. Several world-renowned athletes stay with us every year, with many of them returning for training camps.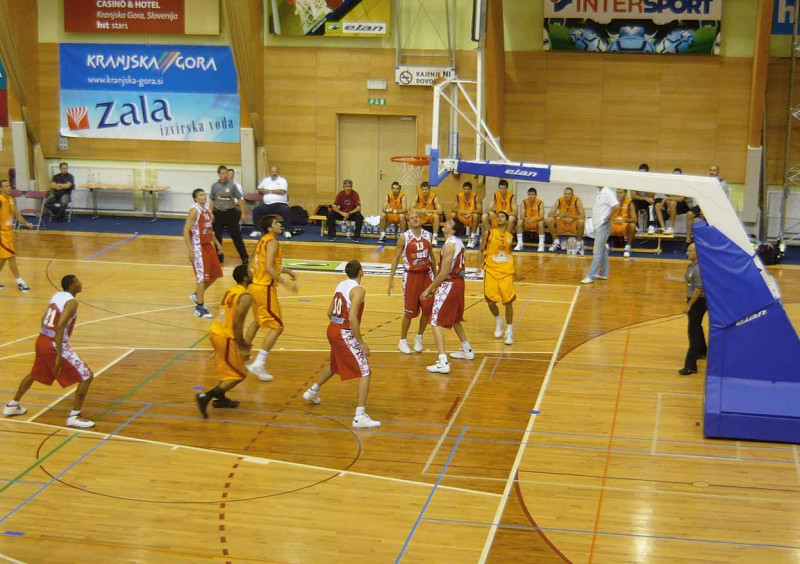 Events
Championships
The 2012 European Basketball Championship U20, the 2013 European Basketball Senior Championship (Jesenice), European Para Table Tennis Championship
Tournaments
The EX YU Veteran Basketball Tournament (30 teams): 2009 - 2014, The EX YU Veteran Handball Tournament (20 teams): 2009 – 2014
Training camps
Marko Milić Basketball Camp, Teoman Alibegović Basketball Camp, Gregor Fučka Basketball Camp
Visiting Teams and Clubs

National basketball teams
Men: Slovenia, Croatia, Poland, Qatar, Serbia, Latvia, Bosnia and Herzegovina, Macedonia and Russia

Women: Belgium, Macedonia, Portugal, Slovakia, Luxemburg, Poland, Israel, Ukraine, Russia and Switzerland.

Basketball teams
Alba, CSKA, Efes, Turow, Kijev, Himki, Crvena Zvezda, Hapoel, Rostov, Galatasaraj (men and women), Astana, Cedevita, Triumf, Nižnij Novgorod, Royal Halil

National volleyball teams
Slovenia (men and women), Serbia (men, women, juniors)

Volleyball teams
Omička, Iskra Odincovo (Russia), Hit Nova Gorica
Indoor football
Slovenian national team (members, U21), Norilsk (Russia)

National handball teams
Slovenia (men and women), Bulgaria (women), Serbia (men), Kuwait (juniors)

Handball teams
Celje pivovarna Laško, Bologna, Gorenje, Cimos, Kolubara, Krim, Zagreb, Vesprem, Siracusa, Vardar, Melsungen

Football teams
Domžale, Francesca Totti Football School, Korona Kielci, Hit Nova Gorica, Rijeka, Slaven Belupo, Rudar Velenje, Azerbaijani national team U19, Inter Baku

National table tennis teams
Italian national team

Hockey teams
Akroni, Medveščak

National ski jumping teams
Russia, Japan, Bulgaria, France, Germany