Comfort Comes First
Holidays with the Finest Views
Everything that the Kompas Hotel has to offer meets the expectations of even the most discerning guests. The largest hotel in Kranjska Gora, the Kompas Hotel is ideally located at the foot of the ski slopes and surrounded by a spacious garden. It offers just about everything you need for an active getaway, a relaxed family holiday, and is also a popular choice for business meetings and conferences.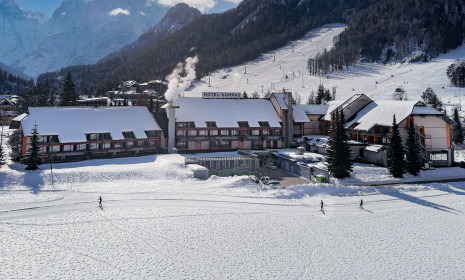 Close to the Ski Slope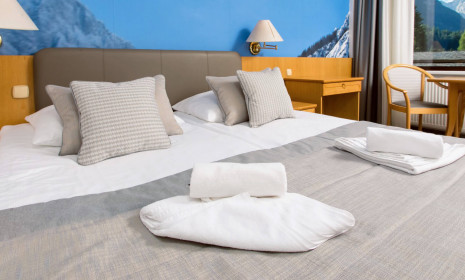 Comfortable Rooms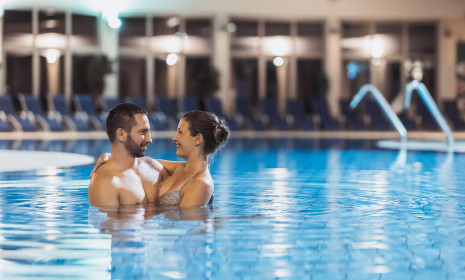 Wellness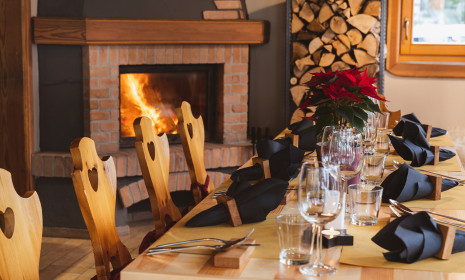 Restaurant
Anything You Need for a Perfect Getaway
The Kompas Hotel is all about your comfort. As Kranjska Gora's largest hotel, it offers a variety of services and amenities. There are 156 rooms with all modern amenities to choose from – your home away from home during your stay in Kranjska Gora.
There are all sorts of things to enjoy, including the finest cuisine, a wellness centre with pools, saunas, a massage parlour and beauty services. The pool terrace boasts a wonderful view of the Julian Alps, where you can enjoy the beauties of nature and sunshine. Children will love the pool with a water slide and a number of fun things on offer for families. Guest rooms feature satellite TV, a mini bar, a safe, air conditioning, a telephone, a hair dryer, a bathroom with a shower cubicle or a bathtub, towels and a bathrobe.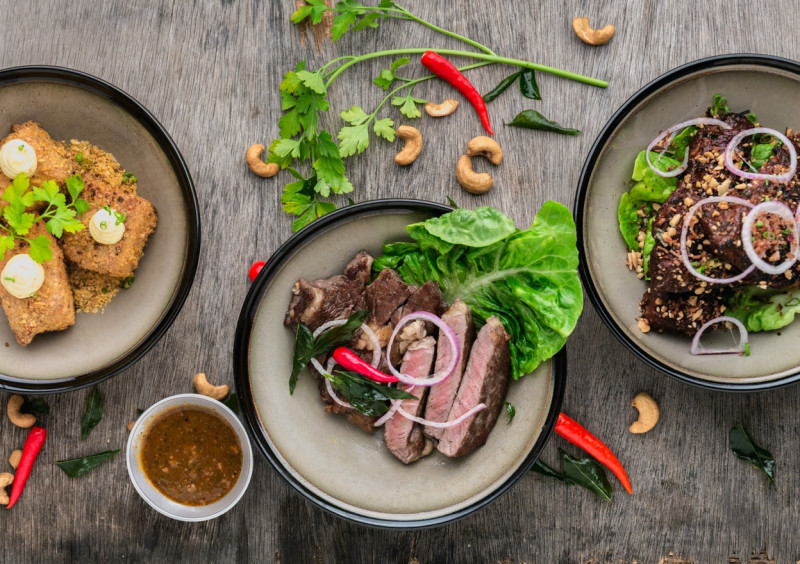 Cuisine
Enjoyable Culinary Experiences
We make sure our guests are well-fed – this applies to food for the body and food for the soul. The hotel's restaurant can accommodate 300 guests and offers a wide range of dishes for all tastes. When you feel like a bit of company, you can join the other guests at the Ice Bar for some lively socialising. And after a full day of sports, outdoor activities and exploring Kranjska Gora, you can relax in our garden and enjoy some coffee and sweet treats.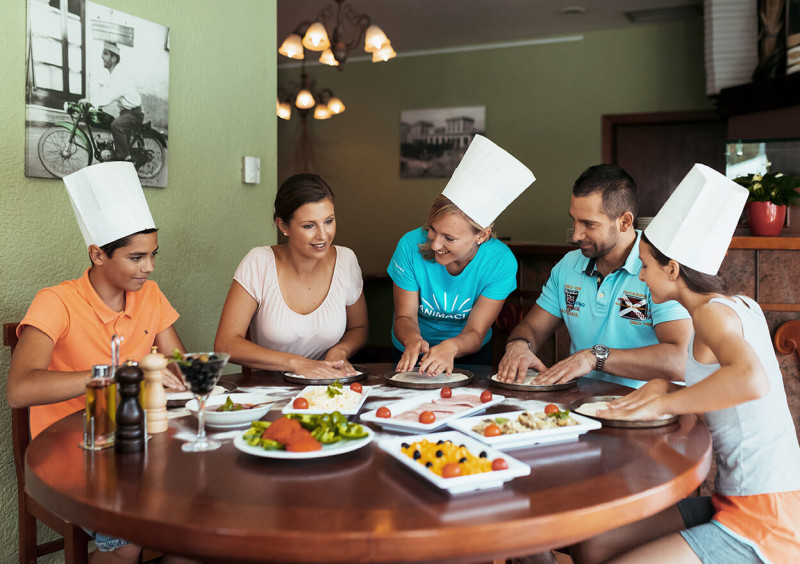 A Family-Friendly Hotel
Activities and Entertainment
The Kompas Hotel offers everything you need for a relaxed family holiday: entertainment for the whole family, various pampering options (massage, saunas, a swimming pool, a children's pool), a fitness room. You can choose between rooms with multiple beds and connecting rooms to enjoy all the comforts of the hotel, while taking care of the needs of each individual family member. Hikers and cyclists of all ages and fitness levels can explore the immediate vicinity and the areas further away, and then while the evening away while enjoying a relaxing activity of their choice.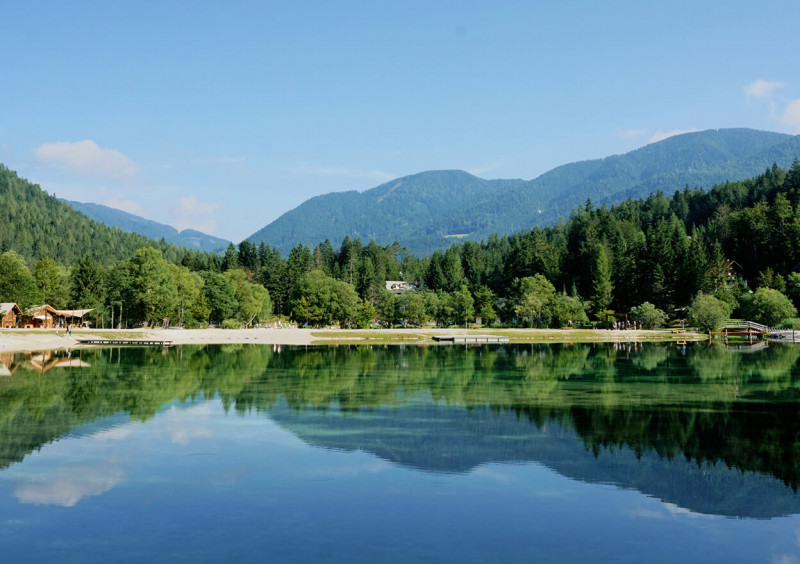 Athletes' Training
A Perfect Place for Training
Everything that the hotel has to offer complements Kranjska Gora's natural features and the sports infrastructure for athletes' training. Longer beds, the gym, swimming pools, saunas, massage rooms and halls that can be used for sports analyses are paired with the knowledge and experience gained when we were involved in numerous major events and hosted various sports teams over the years.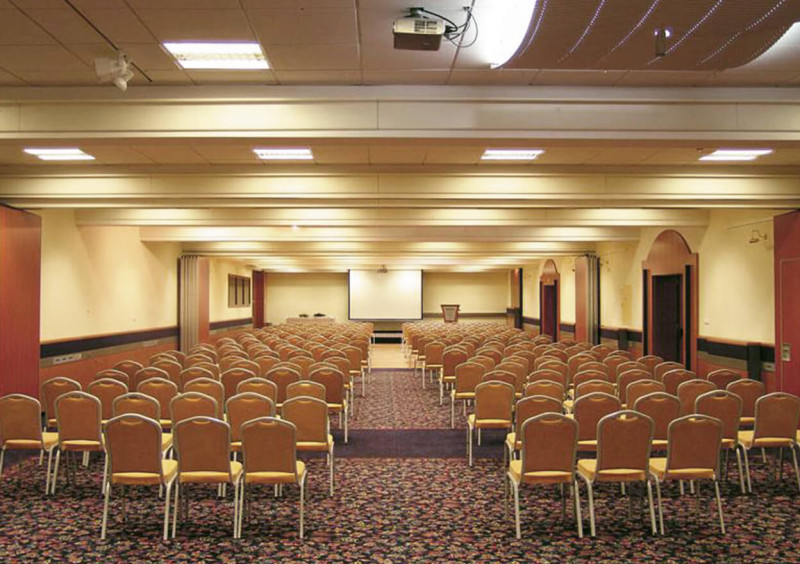 Business Meetings
Professional Services
Much like other events, business events are much more efficient and successful if they take place in a pleasant and inspiring setting. The Kompas Hotel is a popular venue for various conference events and business meetings as the hotel boast several excellent halls – a congress hall, a conference hall and a meeting room, all of which feature state-of-the-art technical equipment. The range of available halls is complemented by a variety of culinary options. And to round off your event, you can dance the night away on the disco dance floor.
Our experienced team will satisfy all your wants and needs, organise even the smallest details and help you wow the participants of your event. And the icing on the cake: the beautiful nature, where you can rest and relax after a full day of intense work.
Where to find us
Borovška Cesta 100
4280 Kranjska Gora
Slovenia
Show on map