A Conference With a View
Meetings and Events at the Ramada Resort Kranjska Gora
Experience a unique conference or event in the green alpine paradise during the summer months or in a white fairy tale in the winter. As nature provides a spectacular background, we will ensure that even the most demanding conferences and meetings are organised professionally.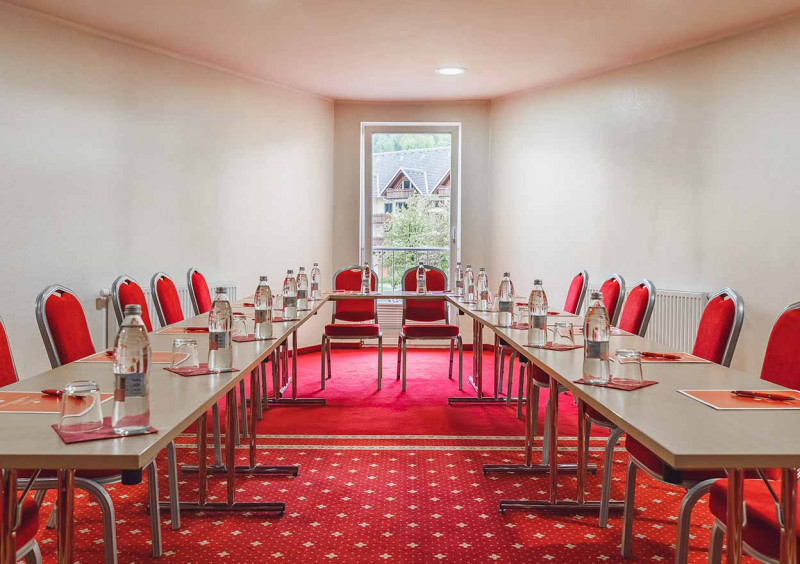 Your Destination for Events
Where Business and Relaxation Go Hand in Hand
If you are looking for a reliable partner to help you organise a business event, look no further. You can rely on our services provided by a team of professionals who will cater to all your needs. Kranjska Gora, embraced by the high peaks of the Julian Alps, can serve as a stimulating environment for work, an exchange of ideas, and casual networking. And to add a lighter note to your event, spend some time in the astounding nature of Triglav National Park.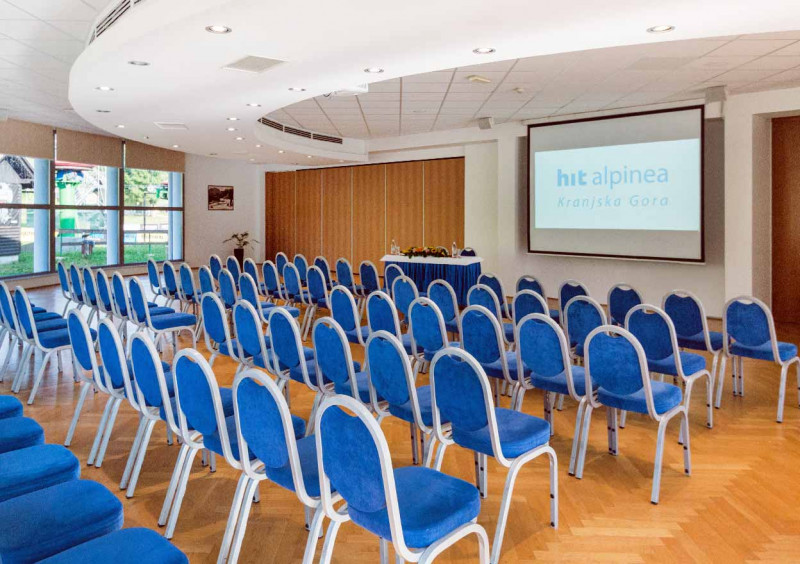 Conference Halls
Excellent Facilities and the Perfect Location
All conference halls have air-conditioning, plenty of natural light and modern technical equipment.
The Planica conference hall has a beautiful view of the ski slope. It can be divided into two smaller units. The foyer next to the hall can be used for receptions or registration. The restrooms are adjacent as well.
The oval conference hall also overlooks the ski slope and has an exit to the hotel terrace. It can be divided into two smaller units with a big foyer.
Three lecture rooms with natural light.
Technical equipment in the halls:

Modern audio and video equipment

Projector screen

LCD-projector

Sound system

Desktop microphones, headsets and handheld microphones
Reception desk

Speaker podium

Round table for speakers

Laptops

Flip chart

Information signs

Wireless internet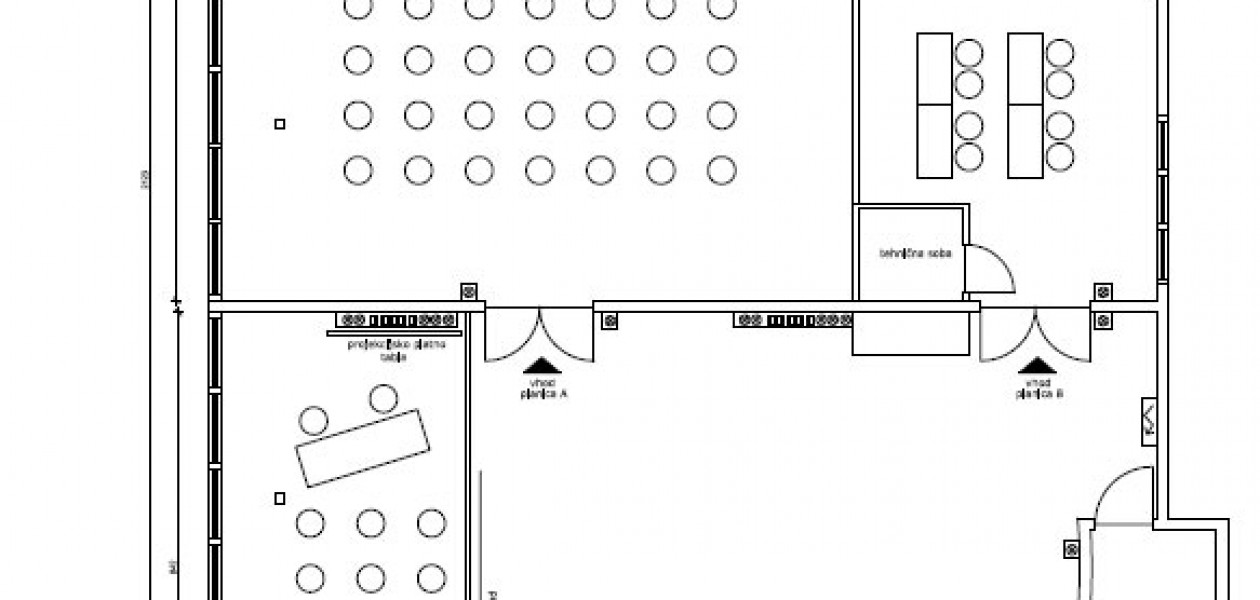 | Measurements | Size (m2) | length/width/height(m) | cinema | classroom | U-shape | Reception |
| --- | --- | --- | --- | --- | --- | --- |
| Planica | 200 | 13,20 / 15,60 / 3,40 | 250 | 134 | 80 | 250 |
| Planica A | 100 | 13,20 / 7,80 / 3,40 | 125 | 63 | 40 | 110 |
| Planica B | 100 | 13,20 / 7,80 / 3,40 | 125 | 63 | 40 | 100 |
| Tamar | 36 | 9 / 4,50 / - | - | - | 18 | - |
| Measurements | Size (m2) | length/width/height (m) | cinema | classroom | U-shape |
| --- | --- | --- | --- | --- | --- |
| Vršič | 41 | 9 / 4,50 / 2,25 | 30 | 25 | 18 |
| Vitranc | 41 | 9 / 4,50 / 2,25 | 30 | 25 | 18 |
| Zelenci | 41 | 9 / 4,50 / 2,25 | 30 | 25 | 18 |
The 8th Slovenian International Conference on Graph Theory, June 2015
We were very pleased with our stay at your hotels and throughout the entire conference. The hotels provide the perfect environment for work and all your staff is very helpful. We were most impressed by your responsiveness and your attentiveness to our ideas, which you were at times able to surpass with an even better solution. We were also able to resolve all minor issues quickly and successfully, if they happened to occur.
We received many complements from participants from all over the world, both due to the location and the organisation of the conference. So, to sum up, we are looking forward to collaborating with you again in the future.
Best regards,
Gašper and Primož
We held a 2-day training session for a multinational company at the beginning of February 2015. The services were impeccable, the training was room fully equipped, and the cleaning personnel were always helpful. The receptionists were handling our group in a very professional manner, always smiling and very helpful with all our requests. The manager of the hotel was constantly present and asking for feedback, she actually was everywhere: in the training room, at the reception, in the restaurant, and even on the outside terrace, ensuring that all clients were happy. The choice of food and the wines were also great, the wellness facilities are in excellent condition. I strongly recommend the Ramada Resort Kranjska Gora for business and also for personal vacation. Well done Team!
Helle Saturnus, Simina K, Timisoara, Romania
"Hello, I am a little late to respond, but better late than never. The pleasant memories from the perfectly executed meeting at your hotel are still vivid. There were quite a few meetings and phone calls before the start. A few of our requests changed, as did the number of attendees just before the meeting. At the start of the event, there was also a request for a change in the dinner menu for Saturday, which was practically last-minute. There were quite a few possibilities for the event to go wrong, both before and during the meeting, but we successfully avoided them with cooperation, experience, and our mutual desire to present ourselves in the best possible light. Minor disagreements that emerged were favourably resolved for both sides with a prompt dialog. The gratitude expressed by the participants at the end, the sincere handshakes, warm hugs and the touching parting all prove that we truly succeeded. We received many thank-you letters. I would not say that our business partners are highly demanding, but the fact that this was already our 19th meeting speaks volumes. The participants regularly attend such events and are therefore able to critically appraise the effort that is invested and the level of professionalism. I am delighted we chose you. I certainly hope to have the pleasure of collaborating with organisers as skilful as you and your entire hotel team in the future. You are the perfect example that illustrates the saying "Business and tourism are as good as the people behind them." I would therefore like to truly thank you again for all your effort.
J. Gorazd Kaučič, International Affairs
Contact
Ramada Resort Kranjska Gora
Borovška cesta 99
4280 Kranjska Gora