Cycling in Kranjska Gora
Cycling
The varied landscape of the Upper Sava Valley beckons with its well-marked bicycle paths. Choose easier family tours or go on a more demanding trip into the heart of the Alpine valleys. In both cases you will be richly rewarded.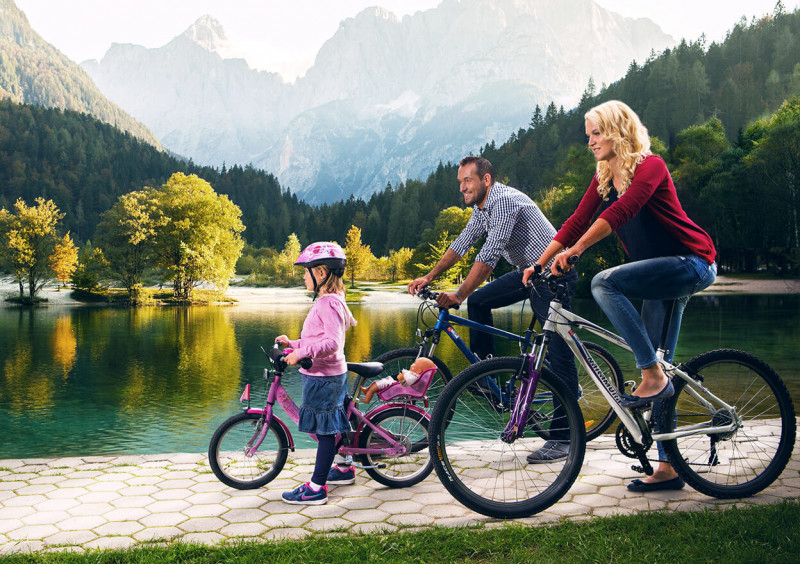 Cycling for Everyone
An Active Holiday
Cycling is probably the most fun way to explore the beautiful nature in Kranjska Gora and its surroundings. A safe cycling route, which is also suitable for family trips, leads through Kranjska Gora and onwards across the borders with Italy and Austria. The terrain in the valley is very diverse so beginner bicyclists, as well as those who want a bigger challenge, can easily find the most suitable routes. We want you to set off well-equipped so we prepared a helpful map with 200 km of marked cycling routes. You can get it in all tourist information centres in Kranjska Gora, Mojstrana and Rateče.
Mountain Biking
To the Tops, among the Woods
Many marked mountain trails are intended for beginners and experienced bicyclists. Get sweaty and soak up the sun on the pleasantly rounded peaks of the Karawanks. On the cycling route of the three countries, starting at the tri-border with Austria and Italy, you can rush through the Radovna valley to Bled. While riding on the well-maintained trails, you will be able to admire nature in its most authentic form. For some extra adrenaline and nature discovery, bicycle on one of the marked single-tracks which you will find around Kranjska Gora. Don't be fooled by some of their names, they are not as innocent as you might expect when you hear the names Kinder Surprise or Robe Twist.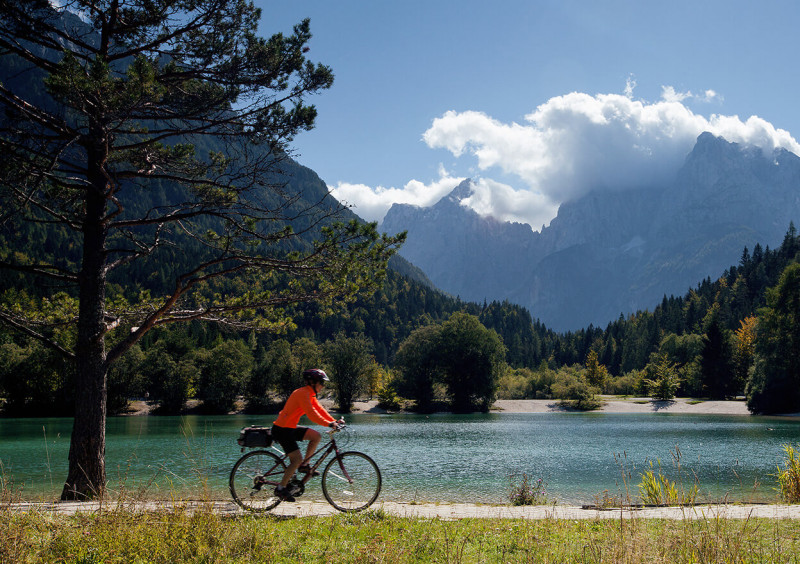 Long Distance Cycling
For the Most Persistent
Circumnavigate the Julian Alps by bicycle. The circular cycling route leads from Kranjska Gora through Bled, Bohinj, Tolmin, Kobarid, Bovec, and over the Vršič pass back to Kranjska Gora. The whole route is 232 km long. We recommend that you cycle it in five stages or five days. On the way you have enough time to relax at your accommodation and prepare your body for a new day of cycling.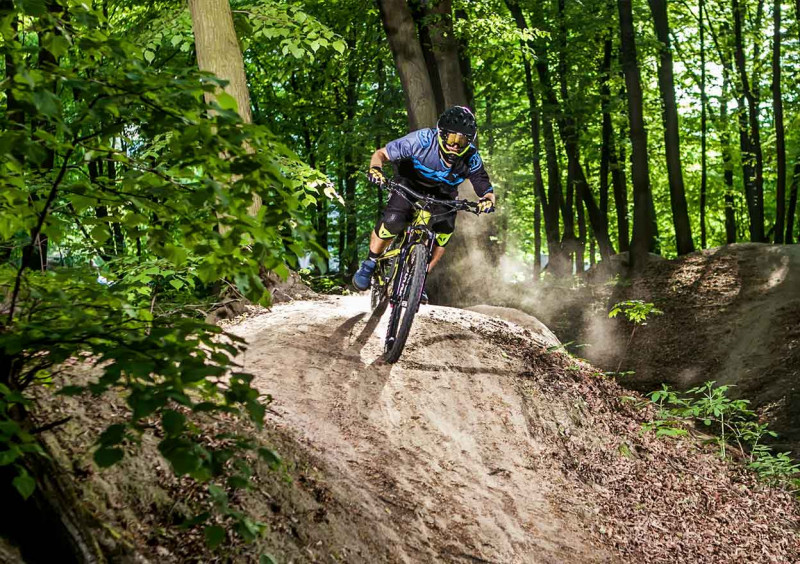 Cycling park
A Rush of Adrenaline
For those looking for adrenaline and sharp turns, a cycling park has been set up in Kranjska Gora. It inspires beginners and challenges professionals. Test your skills and bike on table tops, jumps, gaps and other objects. Before the wild downhill ride, take the chairlift up the Vitranc slope.